No Special Number?
All draw games carry a QUICK PICK option which is a random selection of numbers by the terminal.
The DNL Random Number Generator creates also a completely random set of numbers and/or letters for each game.
Where to Buy Island Wide
With the Agent Locator tool find around the Island, places where you can play our games.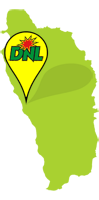 ABOUT US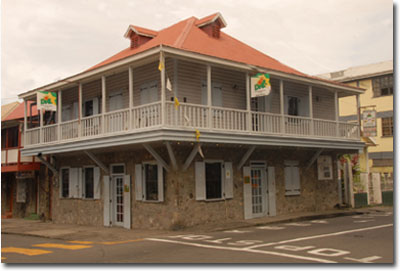 Dominica National Lottery on Cnr. King George V St. & Independence St.
The Dominica Lotteries Commission (DLC) came into existence as a statutory corporation on 7th February 1994. This gave birth by the coming into effect of the Dominica Lotteries Commission Act No. 10 of the Commonwealth of Dominica.
However, even before the advent of the DLC, there existed in Dominica a Management Contract with Apex Services to manage and sell Instant Ticket Games or Scratch Games under the direction of then director Mr. Alvin Knight.
This contract operated very successfully, until the Government of Dominica took the decision to cease the Management Contract with Apex Services and implement its own Lottery business. Thus, from February 7th 1994 the Dominica Lotteries Commission was established by a decision taken by the Cabinet of the Government of Dominica which was supported and approved by Parliament.
In 1995, Canadian Banknote Co. Ltd. (CBN), a technology provider introduced the Diskette System to the DLC which allowed for the introduction of the game LOTTO. This was the first big jackpot game which generated increased interest and participation in the lottery in Dominica. Canadian Banknote Co. Ltd. (CBN) later provided the lottery with a Store and Forward system which gave birth to the regional game Winlotto, which brought further diversity to the Lottery products offered. In 2002, the daily game Daily 3 was further introduced to the range of Lottery products.
In January 2007, the company CBN Dominica Inc., a subsidiary body of Canadian Banknote Co. Ltd was incorporated under the Companies Act of Dominica. On August 1st 2007, under a management contract between Canadian Banknote Co. Ltd. (CBN) and the Dominica Lotteries Commission, CBN Dominica Inc. took over the management of the Dominica National Lottery to continue to manage and offer the Lottery Games. This arrangement developed as a result of negotiations with the Government of Dominica. This venture was not new to Canadian Banknote (CBN), as they currently manage several Lotteries with more games and bigger prizes throughout the Caribbean and internationally.
Today, CBN Dominica Inc. has vastly transformed the lottery and continues to provide the Dominican playing public with a wider variety of games with bigger and better prizes, through the first ever new and modernized touch screen machine which was introduced in May 2010.