No Special Number?
All draw games carry a QUICK PICK option which is a random selection of numbers by the terminal.
The DNL Random Number Generator creates also a completely random set of numbers and/or letters for each game.
Where to Buy Island Wide
With the Agent Locator tool find around the Island, places where you can play our games.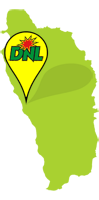 JOB OPPORTUNITIES
Canadian Bank Note Company, Limited produces bank notes and payment systems, passports and passport issuing systems, lottery tickets and electronic lottery games, postage stamps, securities certificates, shareholder communications, and other high security documents and related issuing systems. The Company markets its products to government agencies and authorities, as well as to institutional and other customers in more than 40 countries. The company manages the Dominica National Lottery in the island of Dominica, through its wholly owned subsidiary CBN Dominica Inc.
---
General Manager/Controller
We are seeking a General Manager/Controller with exceptional leadership skills who can effectively and efficiently manage the Finance and Accounting and lead the day-to-day operations of CBND, manage competing priorities, liaise with government officials, and be part of an international team. Our ideal candidate would have a proven track record of results and a thorough knowledge of finance, accounting, budgeting, and cost control principles and automated financial and accounting reporting systems.
As the General Manager/Controller, reporting to the Vice President, Caribbean & South America Lottery and Gaming at Canadian Bank Note Co. Ltd, the individual will provide strategic leadership for the Lottery by working with the Executive Management Team to establish financial and accounting goals, strategies, plans and policies. In addition, the individual will provide sound fiscal leadership, effective policy formulation, accurate and comprehensive financial accounts, and management reports, overseeing all financial, accounting, forecasting, budgeting activities and operations of the Lottery.
SKILLS, KNOWLEDGE AND ABILITIES:
Knowledge of the principles and practices of supervision.
Knowledge of marketing goals/strategies.
Ability to develop/implement strategic plans.
Knowledge of financial management principles.
Ability to communicate with internal/external stakeholders at all levels of an organizational hierarchy.
Ability to represent the Lottery at various agency/interagency committees.
QUALIFICATIONS AND EXPERIENCE:
At least a BSc in Accounting, membership of a recognized professionally accounting institute such as ACCA, CGA, AICPA, CA, CMA, AAT or equivalent.
At least five (5) years working experience in accounting and finance.
At least five years of proven managerial experience/responsibility as leader of a team.
Experience and knowledge of SAGE ACCPAC would be an asset.
Experience in lottery and gaming industry would be an asset.
A competitive salary and benefits package, commensurate with qualifications and experience will be offered to the selected candidate.
---
To apply, please send a cover letter along with your resume and three (3) references addressed to:
Mr. Stuart Gooding
Vice President
CBN Dominica Inc.
Cnr. of Independence & King George Vth Streets,
P.O. Box 694, Roseau, Dominica
or email to:
[email protected]
---
REQUEST FOR PROPOSALS (RFP)
Food & Beverage Operator
CBN Dominica Inc. is a subsidiary of Canadian Bank Note Company Limited which operates and manages on behalf of the Dominica Lotteries Commission the Dominica National Lottery. CBN Dominica Inc. is issuing this Request for Proposals to retain food and beverage operators to provide service for new gaming centers.
Project Overview:
We are seeking an independent Food & Beverage Operator with exceptional restaurant operations skills who can effectively and efficiently manage a food and beverage outlet situated within our gaming center. In general, the entertainment center will be expected to operate between the hours of 10 a.m. to 2 a.m. potentially Monday to Sunday. It is expected that patronage of the food and beverage service will be available during these times (final operational hours will be agreed to in consultation with the successful operator) and will include both visitors to the entertainment center as well as persons attending primarily for the beverage and dining service. Customer potential can be in the range of dozens of patrons to hundreds on certain days at peak.
Under general direction of the General Manager, responsible for managing and providing strategic leadership for all Food and Beverage operations in the Game Center, the Food & Beverage Operator will ensure that all Food and Beverage operations are executed to achieve established quality, service, safety and financial goals and objectives and in accordance with all applicable established regulations of CBND Inc.
Service Specifics:
CBN Dominica Inc, is looking for an operator that will be able to fully operate and execute the day-to-day operations of the Food & Beverage Outlet. This will include developing goals and objectives for the Food & Beverage Outlet and then ensuring the appropriate organizational structure to support the needs of the Food and Beverage operations, primarily, but not limited to, staffing, inventory maintenance, service equipment and health & safety controls.
The operator will work with CBND to ensure a high-quality menu that will both cater to the needs of our clientele as well as maintain competitive status in the food and beverage market. This will include daily specials as well as long term menu items, both food and beverage, with an appreciation for a different approach for lunch and dinner dining options. Regular review of menu quality and competitiveness will be required to ensure goals and objectives are met.
The operator will work with the CBND Marketing department to plan events and promotions that include Food and Beverage. They will also assist in the development of advertising, promotions, and concepts to capture more players and a larger share of the local market maximizing sales of both the gaming center and the food and beverage operation.
The operator will be expected to keep up to date and follow all rules and regulations regarding food and beverage service. Proper food safety handling and equipment training, and documentation of such, will be expected to ensure the health and well-being of all staff and clientele. Proper maintenance of all CBND owned equipment will also be expected.
The operator will be expected to provide well-trained staff for all positions required in the food and beverage operations. This will include increasing staff effectiveness by recruiting, selecting, orienting, training, and coaching.
The operator will be required to have regular meetings with the gaming center management to review common goals and expectations. Regular reporting of sales will be submitted to management. Confidentiality is expected of all parties for any confidential information discussed or reported.
Selection Criteria:
The following criteria will be highly weighted when reviewing submitted proposals.
Food and Beverage Operation experience. At least 3 years.
Experience working with financial documents including budgeting, food cost analysis, and labor cost analysis.
Owner/operator with must be 21 years of age or older.
Owner/operator with clean police record.
Preference will be given to operators that can demonstrate a history of successful operation, of a full-service all-day beverage and dining environment.
We invite suitably qualified businesses/companies to submit proposals for consideration including:
Business/Company background information including references for projects/jobs of similar scope.
Response to service specifics, including some detail on how each would be achieved.
Detail of what selection criteria has been met or will be met in the near future.
Consideration will be given to the certification, background, and experience in the selection process. For detailed information and proposals, emails should be addressed to [email protected].
CBN Dominica Inc. reserves the right to accept or reject applications without reason or to cancel this RFP either partially or fully at any time and will not be liable to any costs incurred by applicants during the preparation and submission of proposals.