No Special Number?
All draw games carry a QUICK PICK option which is a random selection of numbers by the terminal.
The DNL Random Number Generator creates also a completely random set of numbers and/or letters for each game.
Where to Buy Island Wide
With the Agent Locator tool find around the Island, places where you can play our games.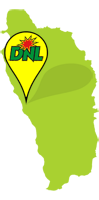 Play 4 was a new game introduced to the public during the relaunch of the Dominica National Lottery in May 2010. Play 4 is a midday game which gives players the opportunity to win a jackpot of EC$2,000.00 everyday for the price of EC$2.00 per ticket. Rules and conditions are printed at the back of each ticket.
This game is played six days a week, Monday through to Saturday except on public holidays. Draws are aired at 1:30 p.m. on D.B.S. Radio, Kairi FM, Q95 FM and Digi Play Channel 5.
How To Play
To play PLAY 4 players must choose four (4) numbers between one (1) and twenty-two (22). Unlike the other jackpot games this game carries no free ticket letters.
Players who match four (4) out of the four (4) winning numbers win the jackpot.
Players who match three (3) out of the four (4) winning numbers will receive EC$20, however if there are no jackpot winners, players who match three (3) numbers would then receive double the prize which would now be EC$40.
Players who match two (2) out of the four (4) winning numbers will receive EC$4.
Buy and cash your tickets at any lottery agent. All Online Lottery Agents are authorized to pay prizes up to $999.
Prizes of $1000 and more must be claimed at the Central Lottery Office with a valid picture ID.
Prizes must be claimed within 90 days of the draw date.