No Special Number?
All draw games carry a QUICK PICK option which is a random selection of numbers by the terminal.
The DNL Random Number Generator creates also a completely random set of numbers and/or letters for each game.
Where to Buy Island Wide
With the Agent Locator tool find around the Island, places where you can play our games.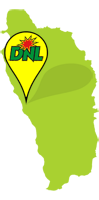 This game is played among the Windward Islands of St. Vincent and the Grenadines, Grenada, Dominica and St. Lucia. Players of those Islands all compete for the attractive Jackpot which this game carries. The Super 6 game was introduced to the public on 12th December, 2005 replacing the multi jurisdictional game known as WinLotto. The WinLotto game carried a starting jackpot of EC $100,000.00 where players choose 6 numbers between 1 and 34 which changed the lives on many throughout the Windward Islands.
Super 6 on the other hand carries a starting Jackpot of EC$200,000.00 where players only have to choose 6 numbers between 1 and 28, therefore giving players of the Windward Islands bigger jackpots and more chances to win. The Super 6 game is played twice a week every Tuesday and Friday. Draws are aired on D.B.S. Radio, Kairi FM, Q95 FM and Digi Play Channel 5, at 9:00 p.m. Each ticket costs EC$3.00. Rules and conditions are printed at the back of each ticket.
How To Play
To play Super 6 players must choose six (6) numbers between one (1) and twenty-eight (28). Those numbers can randomly be selected through the quick pick method, where the machine selects your numbers for you.
Players who match all six of the winning numbers win the jackpot
Players who match five (5) out of the six (6) winning numbers win a cash prize
Players who match four (4) out of the six (6) winning numbers win a cash prize
Player who match the free ticket letter win a free ticket
Buy and cash your tickets at any lottery agent. All Online Lottery Agents are authorized to pay prizes up to $999.
Prizes of $1000 and more must be claimed at the Central Lottery Office with a valid picture ID.
Prizes must be claimed within 90 days of the draw date.